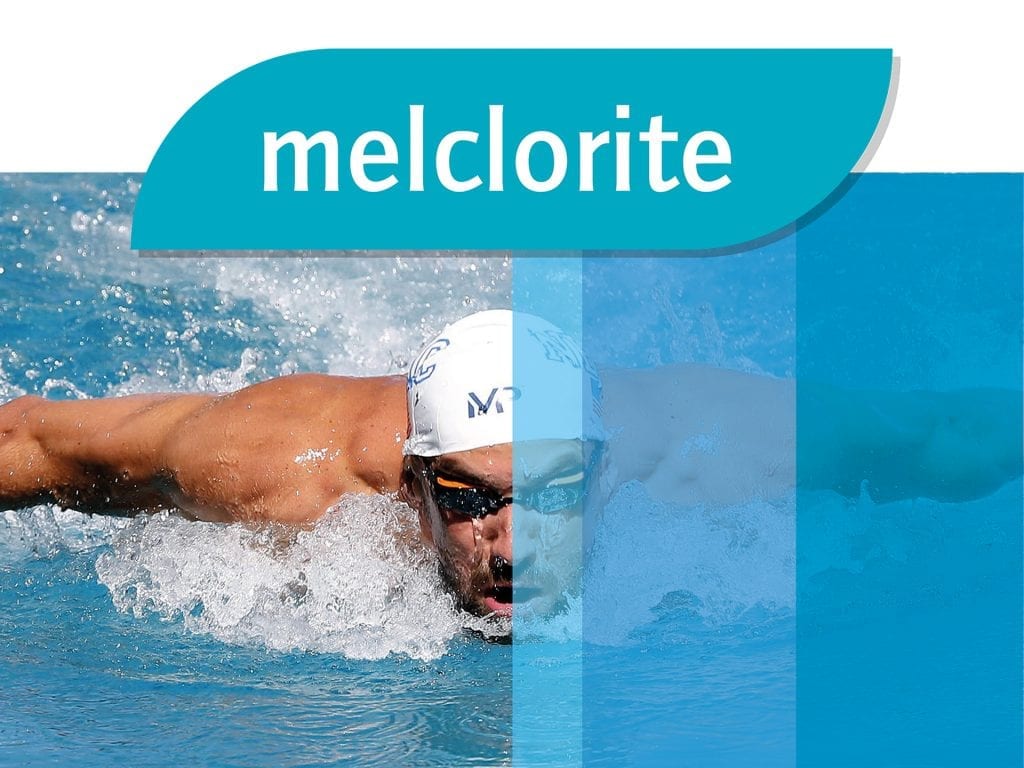 Melclorite: Swimming in safe and crystal clear water
With Melsprings high-quality Melclorite products you are always assured of healthy and clean swimming pool water in accordance with the legal requirements applicable to (semi-) public swimming pools. Suitable for professional water treatment of leisure and sports centres, hotel pools, saunas, rehabilitation centres and camping pools.

Melclorite is also used for the disinfection of drinking water. At drinking water facilities for remote residential communities, but also for emergency aid after natural disasters.

Melclorite product features:
Premium quality calcium hypochlorite
Various product solutions; granular and tablets
High active chlorine content, min.70% (typical 72 – 73.5%)
Highest hydrate content, min. 12.5% (safety)
Prevents problems with chlorates

The chemical name for Melclorite is calcium hypochlorite. This is one of the oldest disinfectants for, among other things, drinking water and swimming pool water. Its basic ingredients are chlorine gas, calcium oxide and sodium hydroxide.

The quality of calcium hypochlorite is mainly determined by the purity of the calcium oxide used. For Melclorite, only high-quality calcium oxide is used, which makes the end-product bright white and well soluble.

Melclorite contains a high hydrate content of 12.5%, making it one of the safest calcium hypochlorite products available. It is qualified with UN number 2880. This is a much safer grade than the non-hydrated form of calcium hypochlorite with UN number 1748. Calcium hypochlorite granules, tablets or solutions can be used for continuous chlorination or applied manually.
Premium quality calcium hypochlorite.
Top quality calcium hypochlorite tablets.
Calcium hypochlorite tablets with calcium stabilizer.
For various applications: drinking water, swimming pool water, waste water and general disinfection purposes.
Best choice for o.a. Granudos automatic dosing systems. When your Granudos is used with a different brand of calcium hypochlorite the machine can be easily adapted to Melclorite drums.
The 20 g tablets can be recognized by the letters N.S. on the tablets.
The Tablets can be used for sanitizing swimming pools, drinking water and general disinfection.
Melclorite 70/20 is specially developed for "open" dosing systems and applications, in particular to minimize irritant nuisance.
The 20 gr. tablets are marked with N.X. The tablets are formulated in such a way that limescale deposits rarely occur. This means a huge saving in cleaning time. It makes the tablets also suitable for use in hard water.
Specially developed for tablet dosing systems.
Tablets dissolve very regularly.
Melclorite 70/20 is specially developed for "open" dosing systems and applications, in particular to minimize irritant nuisance.
Quality
Melclorite complies with all major standards set by:
American Water Works Association (A.W.W.A)
Environmental Protection Agency (E.P.A.)
European standards
DIN (Germany)
Dutch Ministry of Health
French Ministry of Health

Furthermore, Melclorite has been notified by Eurochlor in order to be able to comply with the European Biocides Directive.
Safety
There are different types of calcium hypochlorite. The water content of the calcium hypochlorite is essential for safety. Nippon Soda Co Ltd., the manufacturer of Melclorite, has been producing hydrated calcium hypochlorite with a water content of more than 10% for a long time. Partly because of this, Melclorite is considered one of the safest types of calcium hypochlorite.

For information on product properties, classification, handling and storage, we refer to our safety data sheets. You can request the Melclorite safety data sheets by sending an email to: poolcare@melspring.com.